Butterfly Identification


Identification and suggested sites guides for North East Scotland, Lothian and Borders and also Tayside and Fife have been created and can be downloaded from these links of images.

If you have seen a butterfly and have a picture to share or for identification help then please register youself and post it on our Butterfly Sightings forum.
Butterfly Records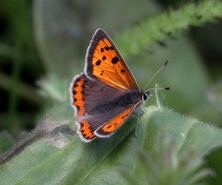 Butterfly records should be sent in as soon as possible, so that we can update our database. Every record counts, even the more common species as they can be valuable indicators of change. The preferred method is by sending in the Butterfly Casual Record Sheet. However, if you have only recorded one or two butterflies they can be submitted directly from this page or, if you don't have access to Microsoft Excel for the spreadsheet using a document which can be emailed or posted.
Getting involved in Butterfly Surveys is particularly valuable. Please take a look at the Surveys page on this site.
If possible, please include information about:
the species
numbers seen
stage (eg adult, egg, caterpillar, pupa)
description of site or locality, if possible using Ordnance Survey map reference
description of habitat type
date
your name, email and postal address.
If you are a regular recorder in East Scotland (including the Lothians, Falkirk, Clackmannanshire, Perth and Kinross, Fife, Angus, Banffshire and Aberdeenshire) then please use this submission form for your records:
Please send your spreadsheet of records to the Recorder for the Branch Area as shown in the table at the bottom of this page.
If you don't regularly see butterflies or are a visitor to the area and you'd like to send in a record then please complete the form below and then click on the "Send these records" button.